LED High Mast Lighting / LED Street Lighting
ewo, a manufacturer of high-quality lighting systems for public areas, has implemented the "T-System" high mast system with LED technology for the illumination of the 90,000 m2-large "Molo di Ponente" port terminal in Venice, Italy.
The project, commissioned by the port administrative authority of Venice, was carried out in cooperation with the planning office TiFS Ingegneria and stands out with its sustainable concept and clearly reduced expenditure on energy and maintenance.
The concept of "T-System" is based upon a modular form of construction. Because of the specific light engineering requirements, the system is fitted with the appropriate number of LED modules. In this way, it is possible to fine tune the performance in stages to ensure that the system only uses as much energy as is required to fulfil the prerequisites. By splitting into single modules, the system can be partially exchanged for maintenance without the need to exchange the entire system.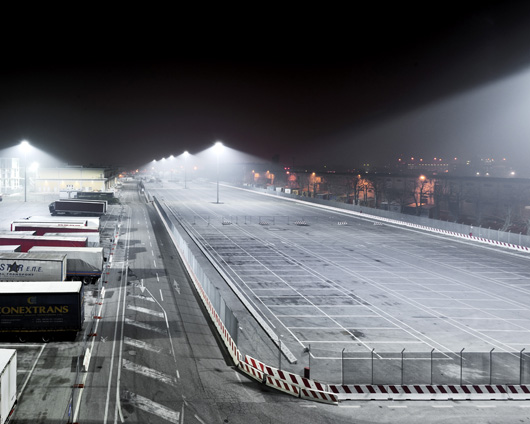 LED high mast systems by ewo illuminate the port of Venice
In the case of the "Molo di Ponente", project, "T-System" will be implemented in various types of fitting and configuration. 11 high mast systems with two panels each at a mounting height of 23 m are being used for the illumination of the 75,000 m2 large central handling area. Products with wall mounting as well as mast systems with a mounting height of 10m illuminate the total of 15,000 m2 of secondary areas.
The illumination of the total area was carried out in compliance with EN 13201 (classification CE2) with a median illumination factor of 20 lx.
All products used are based upon the "DP31" lighting unit by cor light, a subsidiary of ewo that works in the sector of the development and marketing of LED technology. Within the course of this project, a total of 2,600 units were implemented and the configuration of the lighting units as defined by the planner TiFS Ingegneria covers 9 CREE XP-G type high- performance LEDs with a luminous flux of 139lm/LED in the light colour Cool White (6,000 K). The precision optics are arranged in such a way that light beams in the upper area are completely avoided, thus preventing light pollution.
The light management system in use and the consequent possibility of optimised light control contributes to a further significant reduction in energy consumption.
ewo:
ewo is a manufacturer of high-quality lighting systems for public areas, offering skilled light consultancy, innovative light management solutions and individual design. ewo uses a holistic approach which becomes evident in its projects, and its leading guidelines are quality, reliability and high product durability. This traditional family company works in accordance with firm and defined values such as honesty, partnership and uprightness and it is these guidelines that drive the company's actions across the board. ewo is innovative, flexible, keeps a constant eye on developments and is open-minded.
cor light:
cor light was founded in 2010 as a subsidiary of ewo. The objective of cor light is the development and marketing of highly-efficient LED technology. The link to ewo ensures the development of pioneering LED technology that is in accordance with practical requirements and fulfils market demands.
For further information about ewo and cor, please visit: www.ewo.com and www.corlight.com.
Please contact Hannes Wohlgemuth: press@ewo.com.
ewo srl/GmbH / Kurtatsch (BZ)
Via dell'Adige / Etschweg 15
IT–39040 Cortaccia
Italy