Istanbul Airport – one year since the Big Move – 6 April 2019-6 April 2020
Istanbul Airport

The world is your home, welcome to Istanbul Airport

Newsletter: April 2020
Istanbul Airport says
'Thank You in these
challenging times!'

The world is experiencing difficult times at the moment. The COVID-19 pandemic has changed the economy, society and everyday life rapidly, leaving large parts of the world in unprecedented shock. The aviation world is in uncertain times as travelling in many regions of the world has become impossible, but we must look to the future and the good things to come.
Istanbul Airport continues to offer service to its passengers in these circumstances.
See how we are making sure that travelling through Istanbul Airport is safe at these extraordinary times:
In times like these, it is important to gather strength and support each other. That is why Istanbul Airport would like to say thank you wholeheartedly to everyone who has accompanied us up to this point. One year ago, the transfer of operations from Atatürk Airport to Istanbul Airport, which became known as the "Big Bang", was successfully carried out and Istanbul Airport went fully operational.
| | The Big Bang was a giant operation, unprecedented in aviation history. Taking less than two days equipment amounting to 47,300 tonnes, spanning 33 football pitches, was transferred from Atatürk to Istanbul Airport. More than 5,000 trucks were used to cross the 45-kilometre distance between the two airports, the longest airport transfer distance ever witnessed. |
| --- | --- |
On 6 April 2019, all airlines were in full operation and Istanbul Airport was working flawlessly – achieved without incident! Due to the careful planning and the excellent execution of the Big Bang, modelled by an extensive Operational Readiness and Airport Transfer (ORAT) procedure, passengers experienced no frictions and airlines continued their service at Istanbul Airport. On 6 April at 14:00, the first flight ever assigned with the code "IST" took off from Istanbul Airport to Ankara Esenboğa Airport. Istanbul Airport came into the aviation world as a bright shining star and has established itself amongst the leading airports in Europe and the world from the moment it turned to full operations.
Istanbul Airport welcomed 64,082,722 passengers between 6 April 2019 and 31 March 2020. Working tirelessly to realise its vision to make the world move closer together, Istanbul Airport will uphold this vision throughout this crisis.
Having welcomed 11 new airlines that had never flown to Istanbul before, the wide variety of international airlines on the airport's carrier rollcall continues to highlight the attractive demand for Istanbul Airport. Passengers have praised the gateway for its stunning architecture and its impeccable service. Completing its first year, the IGA PASS membership, which offers extra amenities such as the comfortable IGA-Lounge, has enjoyed considerable demand. This level of passenger satisfaction has lead Istanbul Airport to surpass the guaranteed passenger numbers in its first nine months of operation.
The tremendous service Istanbul Airport offers to both airlines and passengers has led the airport to win two awards, widely recognised in the travel and aviation industry. US-magazine Global Traveller awarded Istanbul Airport with the 'Special Achievement Award' in the 'Outstanding Innovations' category, chosen by publishers, editors and industry insiders for its outstanding performance. Likewise, the readers of renowned aviation magazine International Airport Review chose Istanbul Airport for the 'Airport of the Year' award, outperforming international airports such as Singapore Changi and London Heathrow.
| | 1 year ago today, we shifted to full capacity after the most successful relocation in aviation history. Even though we celebrate our 1st year with a heavy heart, soon the days will be back where we will send our guests off on new journeys. May we meet again in healthy days… |
| --- | --- |
Istanbul Airport has been facing overwhelming challenges from the beginning and we have become strong enough to handle problems and wise enough to find solutions. We are convinced that we can learn from our past challenges to find the strength to go through this period together and look forward to a brighter future. Therefore, together with the aviation community and the entire world, Istanbul Airport will stand in solidarity against this turmoil.
Our respectful ovation goes out to all the people who are working selflessly and devotedly to serve the public in these challenging times.
At İGA we are proud of what we are doing and we like to share what we are proud of. You can follow what we are doing on YouTube, Twitter, Instagram, LinkedIn, or Facebook – see films explaining what we do and watch Istanbul Airport grow.
Sent by İGA Corporate Communications Team
In association with anna.aero Aviation Development PR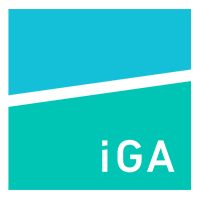 İGA was founded on October 7, 2013 with the purpose of constructing and operating for 25 years Istanbul Airport. Airport officially opened on 29 October 2018. Having completed the 1st phase of the new airport in Istanbul, the country accomplished the first step of its target to become the world's largest hub. The new airport will host more than 100 airlines when all phases are completed. Istanbul Airport will have 300 destinations, with an annual passenger capacity up to 200 million.
Contact Us
Phone: +90 (212) 444 1 442
Fax: +90 (212) 891 91 92
E-mail: igakurumsaliletisim@igairport.org
İGA – İstanbul Airport
İstanbul Havalimanı Terminal Cad. No:1
34283 Arnavutköy,
İstanbul / Turkey
Istanbul Airport
Tayakadın
Terminal Caddesi No:1
34283 Arnavutköy
Istanbul
Turkey